Ex-Bordeaux Red Wine Cask Single Malt
Ex-Bordeaux Red Wine Cask Single Malt
£59.50
Our fruit-forward Ex-Bordeaux red wine cask single malt is one of the bestselling whiskies in our line up of original expressions.
Single cask
Bordeaux Red Wine cask
70cl, 46% ABV
Full description below.
Fast & Free UK Delivery
48 in stock

About this whisky
Our Ex-Bordeaux cask whisky is distilled in our beautiful copper still and cut with pure Dartmoor spring water.
With soft fruit and blackcurrant on the nose, on the palate you'll find distinct wine gum flavours, followed by hints of coconut and chocolate. This exquisite ex-Bordeaux cask whisky finishes with a sweet and floral complexity, enticing you for another sip.
The barley is grown on Dartmoor National Park before being traditionally floor malted in Warminster. The malt is then turned into beer wash in Princetown on Dartmoor, before being distilled in our 1966 alembic copper still where we craft our sweet and smooth new-make spirit.
The Dartmoor spirit is then matured in one single red wine cask in the cool quiet of our cellar, which we've hand-selected from Bordeaux, a region world-renowned for being one of the best wine growing regions in France.
70cl, 46% ABV
Non-chill filtered
No colours or flavours
Bordeaux red wine cask whisky, handcrafted on the edge of Dartmoor
Our whisky is true produce of Devon. Our single cask, single malt whisky is made with local barley, cut with pure Dartmoor spring water and distilled in the old Bovey Tracey Town Hall on the edge of Dartmoor. The local climate and soil make for the very best, high-quality barley. Our barley is grown in the rugged depths of Dartmoor by Devonian farmer Tim Cox at Preston Farm.
When the barley is ripe and golden, it is harvested and sent to be malted at Warminster Maltings. It is Britain's oldest working malting house and uses traditional techniques such as germination floors and good old-fashioned manpower to malt barley fit for very fine single malt whisky.
Our beer wash is brewed by local cask ale producers to our original recipe, specified by our Master Distiller, Frank McHardy. The primary distillation process takes place in our beautiful copper still, sourced from the Cognac region of France.
The spirit is then transferred into barrels for maturation. We carefully source our casks from around the globe to ensure that each batch of our spirit takes on a sensational and unique flavour.
View our full range of whisky expressions here.
Nose
Soft fruit and blackcurrant
Palate
Wine gum fruit flavours with a hint of coconut and chocolate.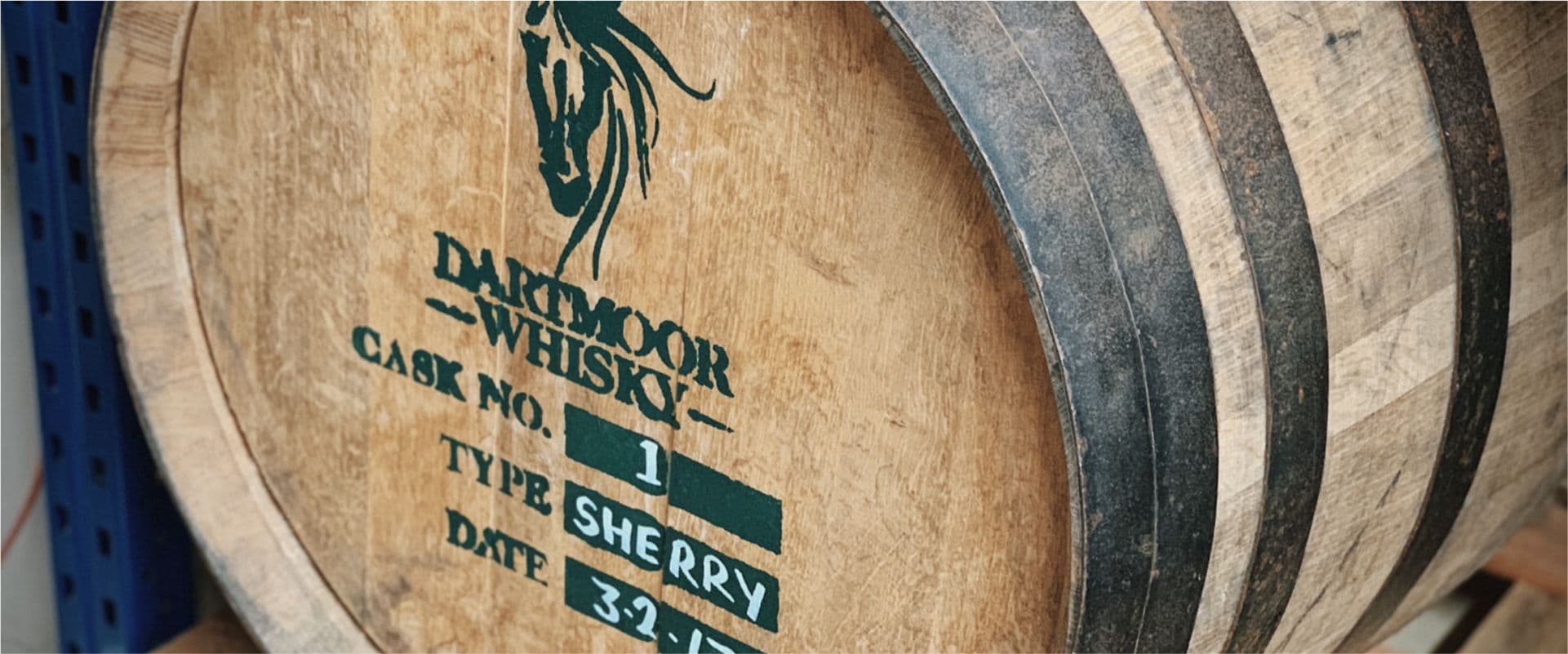 The Bordeaux Red Wine Cask
This particular barrel is from the Bordeaux region which is world-renowned for being the best wine growing region in France. We take barrels which have previously held the highest-quality French red wine and fill them with our whisky straight from the still on the edge of Dartmoor, ready to mature and soak up the beautiful aromas of the cask.


"I'm not supposed to be drinking for the next few months but had to have a small glass of this when it turned up. This from Dartmoor Whisky Distillery is up there and it may even be the finest young whisky I've ever had!"
Matt

"Extremely pleased to receive one of the first bottles of this for my birthday - it's a really smooth whisky with a great flavour - must be the Dartmoor water!"
Kevin

Fast & Free UK Delivery
All whisky sent on a first class, signed for delivery service to Mainland UK

Small-batch distillation
We are an independent, small-scale distillery focusing on quality

Local, natural ingredients
We use barley and spring water from Dartmoor National Park