Our Single Malt, Single Barrel Whisky is now available
The very first Dartmoor Whisky is now available. About Us

We are crafting the South West's very first single malt whisky on the edge of Dartmoor National Park. 
From our alembic copper still saved from an old shed in Cognac, to the rare and exciting casks we source to age our spirit in, we have a passion for doing things slightly differently.
Inspired by the rugged land of Dartmoor on which we live and guided by our Master Distiller, Frank McHardy, our mission is to produce approachable and quaffable single malt whisky of unrivalled quality that encapsulates the true Spirit of Dartmoor.

Fast & Free UK Delivery
All whisky sent on a first class, signed for delivery service to Mainland UK

Small-batch distillation
We are an independent, small-scale distillery focusing on quality

Local, natural ingredients
We use barley and spring water from Dartmoor National Park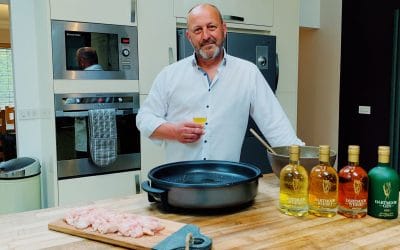 Whilst out walking our dogs along the beautiful River Bovey the other morning, we were welcomed with lots of wild garlic ripe for the picking. As it's lockdown and many of us are looking for new ideas to try out in the kitchen, we felt enthused to share a recipe which...
SIGN UP TO OUR NEWSLETTER
Be the first to hear about the latest news, events and releases from Dartmoor Whisky Distillery

The European Agricultural Fund for Rural Development: Europe investing in rural areas.
This funding was to support our project to renovate and develop our distillery.